Last week we released preview for DT Register with major changes, new features and Improvements. We got good feedback plus bug reports from user and today we would like to announce an update for DT Register Preview version with more improvements and 30+ bug fixes.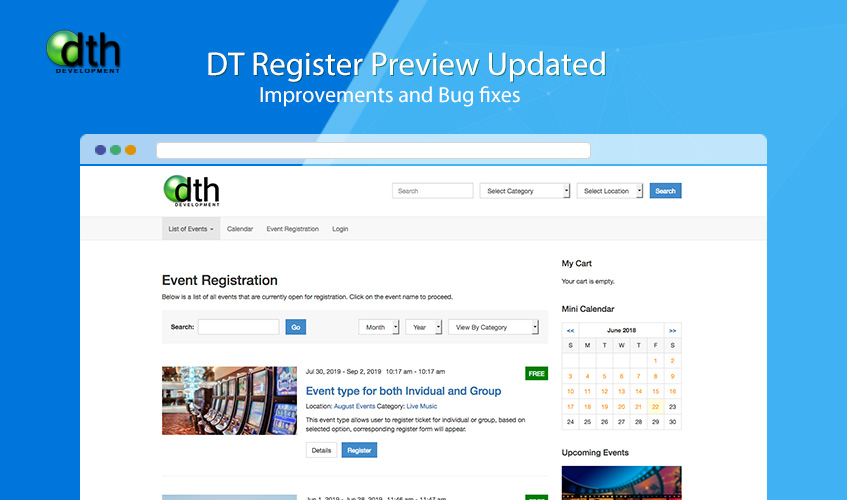 Release Changelog:
Should restyle search module on bootstrap2 template
Jomsocial - Should restyle Registerd events tab on jomsocial page
Front-end: Code error when Register
Front-end: Get code error on Individual Register
[Sponsors],[Speaker] Should not allow to save setting without any content
Backend: category manager: Can't select color
Backend: Categorymanager: Edit Category: missing the square
backend: Event Manager: get code error on Event list
Backend: Event detail: Event Details Article doesn't work properly
Backend: Field Manager: need to add more notice for required fields
Should remove intergrate with community builder if it's not installed
Backend: Edit Email Registration: Get JS Error after Saving
Backend: Themes: show the code error & JS error
Backend: Category Manager: should have message warning before delete
Front-end: Location: Image upload field doesn't show
Backend - Event: Select user should not be a value
Error when trying to pay via eWay plugin
Lightbox Location still Notice error
External css file not getting linked by default
Got notice error when create new an event
User panel message shouldnt show on event detail page
Problem Calendar
Backend - Event: Show duplicate category and can not select article
Get Code error on DT Cart Module
Not show Details button on new event which has created
Got error page when using detail link to Jevent sync
Details button cant link to detail article
Front-end: can't complete the Paymant
Backend: Payment Option & Mass email can't view
[Install] Got warning error when install component with php7.2
[Theme] Got warning error on theme settings page
Registration Records
[Frontend] Edit registration record is redirected to wrong link
Should restyle No button on event settings page
Maximum Number of Events for Car doesnt work correctly
Button color is not changed as setting
[Backend] Got notice error in event detail page
Default theme be marked as default on installation
News section expanded by default
Downloads:
Login / Signup to our Unified Portal to access free download of DT Preview Release.
Existing DTH users have been migrated to new system and they can use their existing username / password to continue to download section.
Download Preview version (free) More details
Whats next?
More updates, improvements, new features will be released in upcoming versions.
BLOG COMMENTS POWERED BY DISQUS