Yes, it's been a long time since an official DT Register update! We have made some bug fix packages over the past months that we've provided through support tickets as needed, but were all along making a wide range of significant changes to the overall package, which resulted in DT Register 3.1.1! The new update is for both Joomla 2.5 and 3.x and includes many fixes and some new features! The new versions are 2.8.14a (J!2.5) and 3.1.1 (J!3.x). As always, you should be sure to keep your site up to date with the latest build to take advantage of all improvements, so get updated today!
You may ask, what happened to DT Register 3.0.10... or 3.1.0. There were some other updates with those version numbers... showing up in tickets to fix issues for users... and showing up in forum discussions. We were making so many changes to the package that we waited on a final, official announcement until now. If you have already downloaded 3.1.0 or received a package with version 3.0.10, 3.0.11 or 3.1.0 through a support ticket, you need to download the current build from My Orders as it's been updated to 3.1.1, to address a list of bug fixes in the J3 version.
Here is what we have done for you...
UPDATES & FIXES IN JOOMLA 3.x Version ONLY: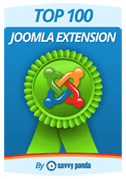 Modified payment gateway structure so each gateway can be split out into separate plugins moving forward. They are all still part of the component, but soon will be separated out.
Added Sofort payment gateway, supporting 11 European countries.
Added PrismPay payment gateway, supporting USA users.
Added Stripe payment gateway, supporting USA, Canada, Australia and some European countries. Available as a separate paid plugin.
Added Options button to control overall Joomla admin access to DT Reg component. Permissions within the various component areas is still handled with our own permissions matrix.
Added Email Registrants tool to the frontend control panel.
Added "Show Location" option in the EventLink plugin.
Modified frontend control panel permissions so if the user doesn't have permissions to access a certain feature, the button doesn't even show for them.
Updated the Community Builder plugin to support the new CB 2.0.7 version.
Fixed email attachment of PDF invoices generated from DT Invoice component.
Fixed install error tied to Community Builder integration.
Fixed permissions issues affecting pay option management mostly.
Fixed missing validation warnings when saving configuration and events when missing required information.
Fixed password validation and requirements for auto user creation so it follows requirements as set in Joomla user configuration.
Improved radio button display in admin areas when using the default Isis template.
Made necessary modifications throughout entire component and all modules and plugins to address strict standards warnings for newer versions of PHP and also changes within Joomla 3.4. NOTE: this includes changes to many frontend view / tmpl files, so if you have any template overrides in place, you will likely need to get the current file and re-apply your changes.
UPDATES & FIXES IN BOTH 2.5 and 3.x Versions:
Added PayWay by Westpac payment gateway, supporting Australian users (as separate paid plugin in J3)
Added Payflow Pro by PayPal payment gateway (as separate paid plugin in J3)
Added DT News area in the DT Register Control Panel to help keep you automatically informed of new updates, features and important announcements!
Modified all PayPal and PayPal Pro integrations as DTH Development and PayPal have created a partnership where ALL DTH customers can register under a group discount (known as our BN Code). This will enable you to get much better transaction fees (and loss of Pro monthly fees). Contact us for more info on this!
Event images and email attachments are now selectable from existing files in your media manager.
Fixed session issue that could allow the failure of records to create after a payment is made.
Fixed issue of attendance status check in email registrants tool.
Fixed DT_START_TIME_GREATER_THEN_CURRENT_DATE issue that would sometimes show when trying to load a registration form... usually because of the usage of a future registration open date.
Fixed timezone variance issue seen on some sites when syncing with events in the JEvents calendar.
Lots of other miscellenous fixes throughout!
NOTE: JOOMLA 3.4.0 INSTALL BUG:
The 3.4.0 build of Joomla had a noted bug in the main extension install process that affected many extensions, including DT Register. If you have that version of Joomla, you will have issues installing DT Register. Update to 3.4.1 and you'll find that the bug was fixed.
Where can I download these updates??
Glad you asked... Login to our site, go to My Orders. Next to your order details you will see a Download link. This link always pulls the latest package that is available. You have access to this link for one year from purchase. If your order is no longer active, you would need to make a new purchase to get any further updates. After downloading the update, be sure to follow the upgrade instructions in the readme file.
Make sure you read the docs inside of the new package and follow the instructions for upgrading!! We appreciate the support of our DTH followers and look forward to ongoing development with you all!
BLOG COMMENTS POWERED BY DISQUS